Floor Effect
Bodeneffekt
Effetto pavimento
Floor Effect
Bodeneffekt
Effetto pavimento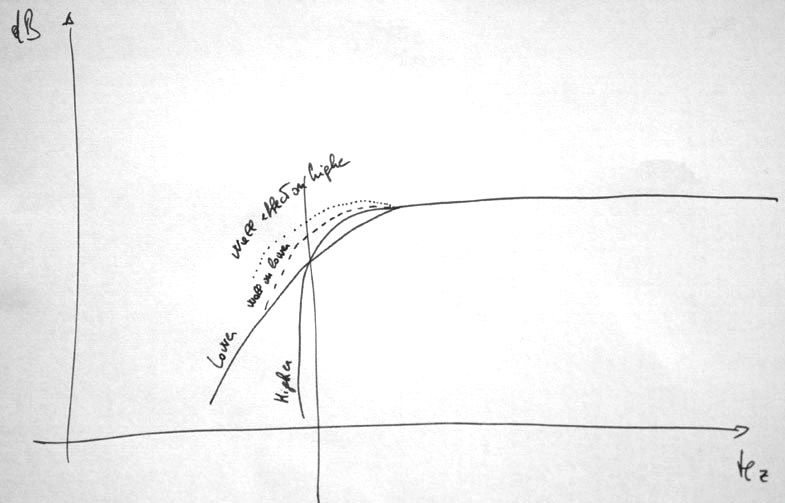 Having an opening to the floor, the bass level of the speaker can be tuned changing the height of the loudspeaker to the ground. This effect applies both to bass horns and to bass reflex ported to the ground. To better understand this behavior, You can look the picture above. This picture is just a qualitative frequency response curve, does not pretend to be accurate and mean something different than a rough description of an effect.

In this picture You can recognize this behavior:
Curve 'Higher': indicates the rough frequency response of the loudspeaker in the standard floor distance position
Curve 'Lower': explains how the lowering of the loudspeaker changes the frequency response

Normally setting a loudspeaker near the wall ('Wall effect on higher', dotter line) brings an increase in the bass frequencies that sometimes tend to disturb the proper music listening. This can be tuned lowering a little bit the loudspeaker ('Wall effect on lower', dashed line).

In certain circumstances, an additional advantage of this feature resides in the fact that if Your room does have some nasty modes in the bass propagation, this could be partially solved using this feature of the loudspeaker.
Da die Öffnung des Lautsprechers Richtung Boden zeigt, kann die Basswiedergabe an den Raum angepasst werden. Diese Eigenschaft wirkt auf Bass-Reflex oder Basshörner, die auf den Boden abstrahlen.
Um dies besser zu verstehen, studieren Sie bitte die obige Skizze!

Im Bild kann man Folgendes erkennen:
Die Kurve 'Higher' zeigt den Frequenzverlauf vom Lautsprecher in der Standardentfernung zum Boden.
Die Kurve 'Lower' zeigt wie der Frequenzverlauf sich mit reduzierendem Abstand zum Boden ändert.

In der Regel gilt, dass wenn man einen Lautsprecher in der Nähe einer Wand ('Wall effect on higher', gepunktete Linie) aufstellt, man eine Erhöhung der Bässe bekommt, die auch eine gewisse Ungenauigkeit mit sich bringt. Es könnte den Hörgenuss negativ beeinträchtigen. Man kann es verbessern, indem man den Lautsprecher ein wenig absenkt ('Wall effect on lower', gestreichelte Linie). Vereinfacht lässt sich somit sagen:
Ein zu geringer Abstand zur Wand hat meistens eine Überbetonung des Bassbereiches zur Folge!
Se i diffusori hanno un'apertura verso il pavimento, allora si può modificare il livello del basso variando la distanza dei diffusori dal suolo. Questa proprietà vale sia per le casse con il basso a tromba che con quelle con il bass reflex.
Per capire meglio questo comportamento, si guardi l'immagine qui sopra. Questa immagine deve solo dare un'idea qualitativa di come l'altezza dal suolo influenzi la curva di risposta in frequenza. Non ha ambizioni di accuratezza.

In questo grafico di può riconoscere quanto segue:
La curva 'Higher' mostra la risposta in frequenza della cassa nella sua distanza standard dal suolo
La curva 'Lower' mostra la risposta in frequenza della cassa quando viene abbassata

Di norma, mettere un diffusore vicino a parete porta un aumento del basso ('Wall effect on higher', linea punteggiata). Questa modifica del basso spesso disturba l'ascolto musicale. Si può aggiustarla abbassando un pelo di diffusori ('Wall effect on lower", linea tratteggiata).

In determinate circostanze, un vantaggio ulteriore di questa caratteristica, è che, se la stanza ha dei modi fastidiosi nella propagazione del basso, questo può essere migliorato alzando o abbassando il livello dal suolo delle casse.